Custom Made Roman Shades by Spiritcraft Design in Crystal Lake, Illinois
Let our interior designers show you why custom made Roman Shades are a versatile and very appealing window treatment option. Our custom fabric Roman Shades are all personally crafted by Spiritcraft Design and are of the highest quality. Because we are the designer and the workroom, we offer the highest quality roman shades in fine designer fabrics at price points that "middlemen" can not match.
There are so many options in designing Roman Shades that there is a place for them in any decor. Roman Shades can enhance your "style" wether it is clean and contemporary, elegant and distinguished and traditional with a Victorian flair... the possibilities are endless. Our custom Roman Shades can be combined with decorative drapery panels, swags, cornice's or board mounted valances to further enhance a clients design aspirations and vision.
Discover the Art and Function of Roman Shades
Roman Shades are becoming very popular and are simply stunning when "that perfect designer fabric" is chosen. Large patterns in florals, jacobeans, brocades, chenille's and bold contemporary fabrics work very well as your investment in a finely crafted and designed fabric becomes "art" while remaining a functional window treatment.
Again, the design adaptability of Roman Shades in any decor is unrivaled and when matched with a dramatic, elegant or stunning designer fabric the shade becomes a focal point... a work of art in itself. And when adorned with draperies, valance top treatments, cornice's or swag treatments, custom fabric roman shades are stunning and can offer different "looks" when lowered, drawn or partially raised.
Roman Shades and the Spiritcraft Difference
When choosing Spiritcraft for custom Roman Shades, our clients benefit from our design experience and in the fact that we craft our Roman Shades ourselves in our workroom. We have a myriad of standard design options but our being both the window treatment designer and the craftsperson, we can create distinctive and unique Roman Shades that can not be found in a "catalog". Custom made window treatments and Roman Shades should be "custom" and should be admired, envied and shown off... we enjoy providing our clients with exceptional decor that will be unique reflections of their personality and decor style. At Spiritcraft, we routinely beat our "broker competition" on labor pricing and in our opinion, provide a vastly higher quality custom made product to our clients.
Again, as both the designer and the craftsperson, we can offer our client added value, true design adaptability, a superior product and the personal service that our clients have grown to rely upon. We invite you to explore the potential of true custom designed and made Roman Shades in we that perfect fabric. At Spiritcraft, we offer our potential clients free estimates and are very willing to add to their decor vision rather than push our taste onto them.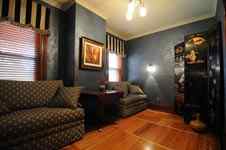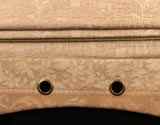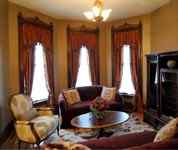 To receive a design consultation and estimate, please call 224-484-0969